Mission
We want readers of Football School to develop a love of reading and a curiosity about the world – and we believe that football is an excellent way to encourage reluctant readers to pick up a book. When children read for pleasure, there are many benefits: a dramatic impact on educational outcomes, self-confidence, well-being, social mobility, improved vocabulary, and development of analytical and imaginative thinking.
It's inspiring for us when we hear, from parents and teachers, that Football School has helped many children develop these skills.
We are proud that the book is part of the Premier League Primary Stars educational programme and is in the BookTrust charity's Library School Pack, which is given out free to schools. We love working with the National Literacy Trust and football clubs who are excited to spread our key message that reading and learning is fun!
We have worked with several football clubs, including: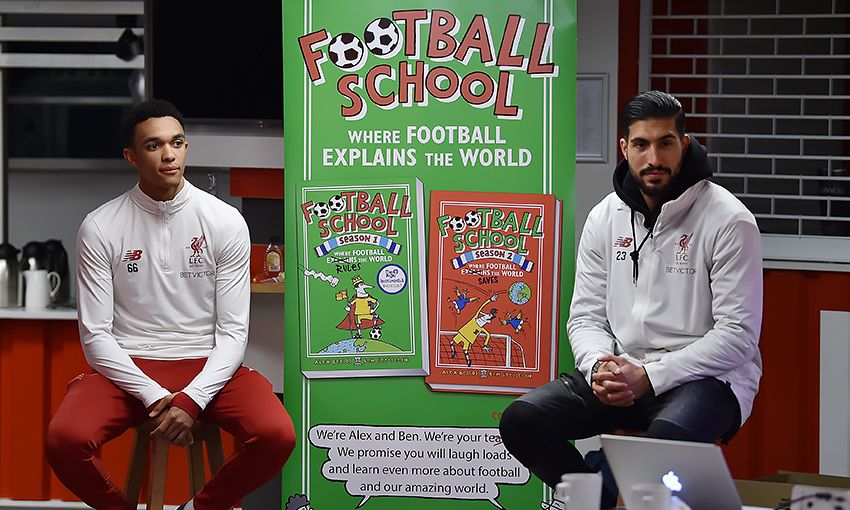 Liverpool footballers Trent Alexander-Arnold and Emre Can at a Football School event for primary schools held at Anfield Stadium for World Book Day 2018. Photo credit: LFC.
We have worked with the following educational and charitable organisations:
And we are chuffed to have been shortlisted for a few awards:
2017: Blue Peter Book Awards
2018: Lese-Kicker Best Football Book for Kids (Germany)
2018: Lollies Laugh Out Loud Book Award